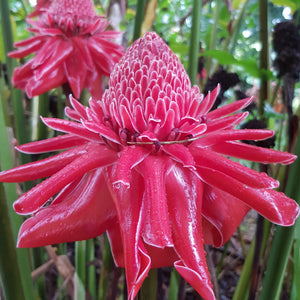 Wholesale Packs of Etlingera elatior "Red Torch Ginger"
Regular price $75.00 $65.00 Sale
or make 4 interest-free payments of $16.25 AUD fortnightly with
More info
**You will receive rhizomes from the root section of the plant**
Family: Zingiberaceae

Botanical Name: Etlingera elatior

Common Names:  Torch ginger, Red ginger lily, Torch lily, Wild ginger

Origin: Indonesia, Malaysia, Thailand/ South East Asia

A vibrant addition to any tropical garden or landscape. Etlingera elatior, commonly known as torch ginger, is a tropical rhizomatous perennial of the ginger family that grows to 12-15' tall in tropical climates but much shorter in cooler climates. Often used in decorative flower arrangements, or simply as a beautiful addition to any tropical garden or landscape.
You will receive five, ten or twenty (your selection) rhizomes from well-established stock. Each rhizome slightly differs in size and shape, our team ensures we select only the finest, most established stock to be delivered to your door.
For more information please read our Shipping & FAQs

🌻🌸

Our plants are grown strong and hardy under Tropical North Queensland sun and rain❤